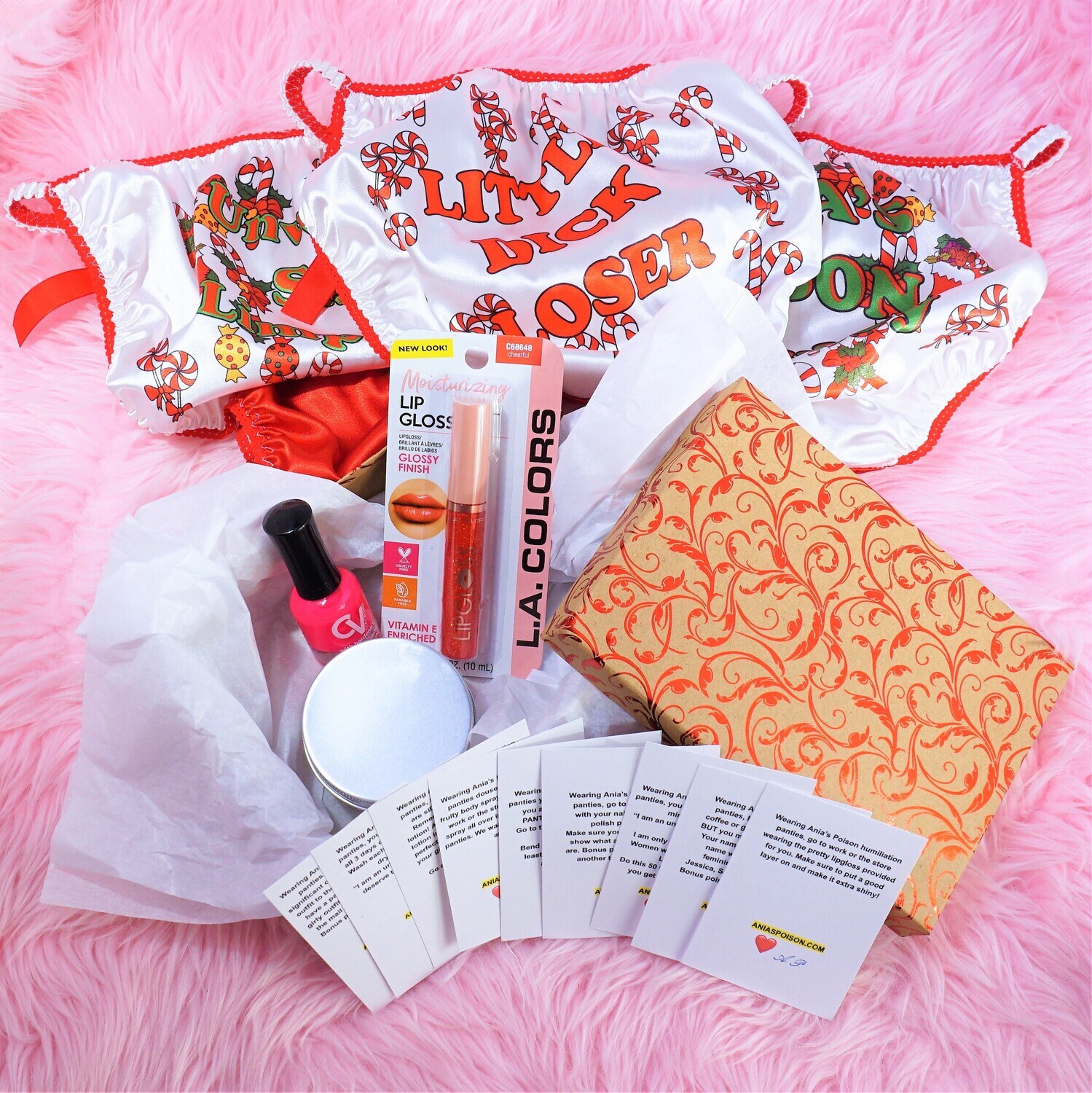 Ania's Poison Sissy Christmas 3 Day Game Set! Fun humiliation Gift Set for your favorite Sissy! Limited Edition!
02003
Product Details
Oh my! oh my! Isn't this fun! Ania's Little kit for a fun 3 day Christmas Game! Exclusive prints just in time for an extra sissy holiday!
What does it include? 3 humiliating satin silky panties, Available in Poison cut, Women's Duchess cut AND Mens Duchess cut! OMG!!!
A deck of 9 cards with a series of instructions for you to complete during the 3 days of your panty adventure. (you can complete only 3 or more of the tasks)
lip-gloss
body splash
Ania's All over body cream which I use HEAD to TOE! (Hand made and 100% natural ingredients, Vitamin E, Mango Butter, Cold pressed Virgin Olive Oil, grape Seed Oil, coco butter and a few drops of vanilla essential oil for scent. Yum!)
Nail Polish of my choice
All packed in a neat little gift box...
Poison Sizes are as follows:
S will range from 22-32"
M will range from 24-36"
L will range from 26-40"
XL will range from 28-44"
2XL will range from 30-48"
About Us:
Ania's Poison is a small lingerie company making all of our items right here in the USA. While many Chinese sellers are attempting to copy our styles now, even STEALING our photos to look like us they can not match our quality. Each item is Hand cut, Assembled, Processed and Finished by our small team of ladies in Roanoke Va! If you are looking for quality men's panties, look no further!
Save this product for later